Modern Minimalist And Designer Laminates
If 'living with less' is your mantra in life, then a modern minimalist house design is just the right thing for you. As it is said that each house has a distinct story and your home reflects your personality.
A modern minimalist design plan for house is an utter delight and almost heaven for people who are obsessed about cleanliness. Going minimalist for your house means lesser clutter and ample of open space and more room for light.
Some important features of modern minimalist interiors are clean and very basic detailing with the focus on forms and functionality which are again, simplistic in nature. Wall finish and cladding remain clean and minimalist. Great emphasis is laid on maintaining spaces which are spacious and light-filled.
To incorporate the modern and minimalist in your interiors is perhaps one of the most satisfying experiences. The idea is to consistently declutter and have optimum usage of smart storage. Ask yourself what you can get rid of, an old center table or your favorite chair, keep only what essentially required. Some added bonuses of keeping the interiors minimal is that it is less distracting, you save on time because less clutter means lesser time to clean and lesser furniture means lesser dust. The 'Chi' energy as Chinese call it, flow easily and the rooms look brighter and spacious. The color tone is subdued and neutral which gives the living space a clean and crisp look.  A sagacious way in which you can integrate the minimalist look for your home is by using laminate sheets which are budget friendly.
Living Room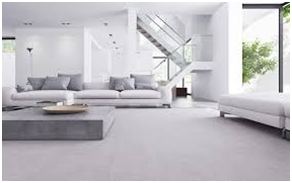 Image Source http://www.buildandsustain.com/images/minimal_int_03.jpg
Neutral shades of white and greys blend perfectly with the minimalist furniture to give this living room a remarkably stunning look. There is also plenty of room for natural and artificial lighting.
Kitchen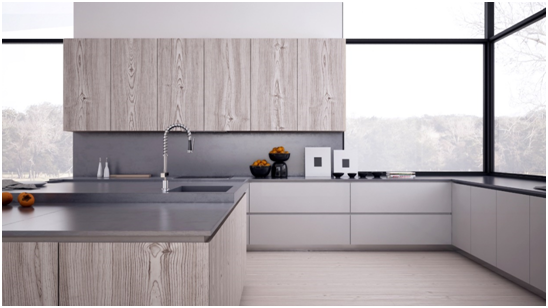 Image Source https://mir-s3-cdn-cf.behance.net/project_modules/max_3840/07b5d135255405.56f00ed543286.jpg
With a modern, minimalist, spacious and open kitchen design, this sure looks like a dream kitchen. Choose from various options of kitchen laminates available in the market to create this refreshingly spacious kitchen for your home, we're sure that you wouldn't want to step out.
Washroom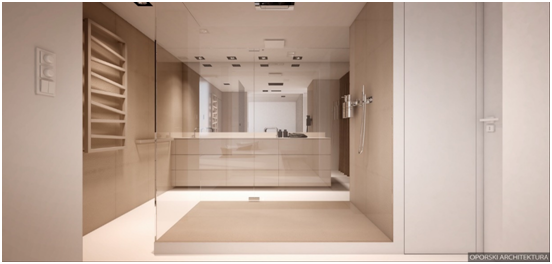 Image Source https://s-media-cache-ak0.pinimg.com/originals/54/66/e8/5466e8e18978f1b87df064d25020ff1b.jpg
Keeping up with the modern minimalist theme of the house, modern fixtures, glass division (instead of shower curtains), clear resurfacing, smart storage, earthy- neutral shades and ample of lighting have been used here to create a serene washroom.
Bedroom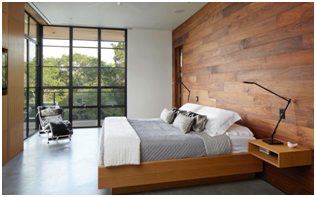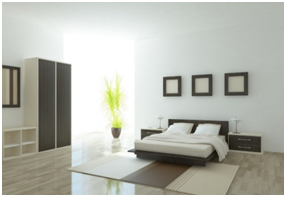 Image Source https://cdn.homedit.com/wp-content/uploads/2015/06/wooden-wall-minimalist-bedroom.jpg
http://tjihome.com/wp-content/uploads/2016/08/Elegant-minimalist-bedroom-HD9B13.jpg
Not only is a clutter free and a minimalist bedroom a visual treat, it also exudes a peaceful vibe which is hard to miss. For this spacious and elegant bedroom, you can use wooden laminates for wall panels and wardrobes. You may also choose to opt for laminates in beds and doors.
We suggest use of laminate sheets for a minimalist makeover for your home because not only are they budget friendly, laminates are durable and very easy to maintain. These days there are a multitude of options to choose from which are available in the market. For an elegant minimalist makeover for your home, you may want to check out the Global series and Classic+ series for an impressive range of laminate designs by Formica India.