Make A Resolution To Declutter Your Home This New Year's (Declutter Tips, Revamp DIYs Using Laminates, etc)
We're about two weeks into the new year and it is time to review your resolutions. As important as it is to follow the personal resolutions, it is also important to resolve your focus on the home front too. Bring in new energies in your home by implementing simple or elaborate home improvement ideas. Begin by decluttering, deep cleaning, revamp the old furniture and take up DIY projects for home renovation. Follow the tips mentioned below to bring about that change in your home.
Ten minutes a day keeps the clutter at bay
Spend at least ten minutes a day to declutter and free up your living space. In Fengshui principle, clutter represents stagnation and postponed decisions. It is the inability to move forward in life, accumulation of load and blocks in life which keeps you from making progress.
As it goes that we need to make way for new to enter our lives by getting rid of the old, the same principle extends to your home as a Fengshui tenet. Transform your living and work space by clearing clutter. Dedicate ten minutes each day to tidy up your home. If you stay surrounded by mess and clutter around, that is what you attract in life. So, get moving and transform your space to gain clarity and attract abundance in life. Let the energies flow freely, take it up as a challenge and make a resolution to free up the living space, don't let the dust settle.
This new year's make a resolution to deserve a day each month for deep cleaning the house. Scrub away the dust from the floor, polish the window panes, sparkle the ceiling, deep clean the drains and exhaust vents, to cut the long story short deep clean all the forgotten and hidden corners.
Out With The Old To Keep It Light
Before you begin, understand the difference between 'want' and 'need', what you want may not be what you need! Get rid of all the extras- piece of furniture, clothes, accessories, or any household goods which you no longer need. Make a difference, bring light to someone's day by donating. Make a resolution to clear at least three items from your wardrobe every two months or you may increase the number if you so wish. Similarly give away at least two household articles from each room and you will already feel the difference, it'll make you feel much happier and lighter.
Speaking of light, you can make the rooms breathe by choosing to replace the heavier-bulkier furniture with lighter and compact furniture, like choosing to go the minimalist way. Not only it has an outstandingly stylish appeal, it makes for easy maintenance too. Once you begin to explore, you would realize that going minimal has never been easier. Go for monochrome for ultra-glam or let the wood do the wonders. Here's a great money saving tip for you, you can also use high pressure laminate sheets in veneer or wooden finish to get that perfect natural wooden finish! Check out the various options available in the market by simply searching on the internet for laminate manufacturers and dealers, you can follow the lead from there.
Revival Tips With Decorative Laminates (The DIYs)
Give your house a make-over, quite literally! What are the ways in which you can revamp, you wonder? There are many ways and we'll tell you how. You can revive the old furniture by painting it, reupholstering or by resurfacing. Resurfacing simply means using high pressure laminates or decorative laminates as they are commonly called.
Painting can be quite fun and your master strokes needn't be as fine as Picasso's to re-paint the old furniture! A drab old table can be given a contemporary twist by painting it in vivid colors. Give a new lease of life to your plain and old metal table or chairs with coats of paint. You can choose to use spray paints for an easy application, however remember to use a primer. Reupholster the old stool, chairs for a renewed look. There are different patterns, shades and which you may can experiment with- go for stripes, floral, vintage, geometric, abstract, eclectic or give it a chalky finish. You can quite literally play with paints and fabrics here.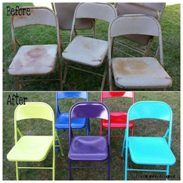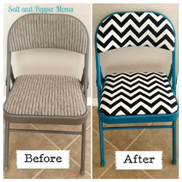 Image Source https://in.pinterest.com/pin/635992778599058970/
https://in.pinterest.com/pin/501799583455557920/
Cheer up the old walls by repaneling them with laminate sheets. Resurfacing the walls dresses up beautifully and livens up the entire room.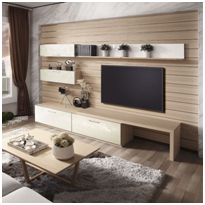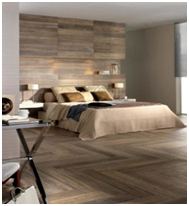 Image Source https://goo.gl/GdqLkR
https://www.pinterest.com/explore/laminate-flooring-on-walls/
You can also use resurfacing with laminate sheets for cupboards. There are decorative laminates available in various textures and finish (matt or glossy).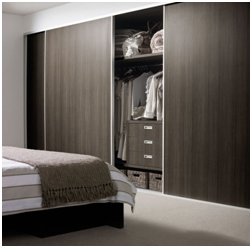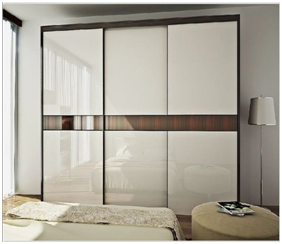 Image Source http://uzit.com.au/wp-content/uploads/2017/06/LR-1-768×1024.jpg
https://in.pinterest.com/explore/sliding-wardrobe-designs/
Quirk up your granny's old trunk with laminate sheets or quirk up the old dresser by painting it in Aztec design.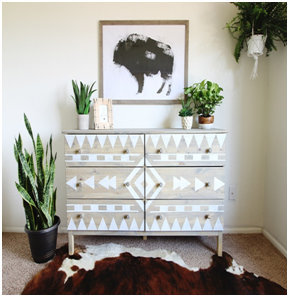 Image Source https://in.pinterest.com/pin/453315518719631660/
http://www.classyclutter.net/2015/08/diy-aztec-inspired-dresser-makeover-and/
Let this year be a meaningful one for your home too. As we mentioned earlier that there's a joy in giving – so give away all that you do not need. Revive the old to make it new. There are so many ways in which you can cheer up your house so don your creative neat freak hat and get started.