Home Office Ideas On A Budget- Decorative Laminates To The Rescue!
Working from home and being your own boss is a dream for many.  It offers a respite from leading a 'monotonous' and 'robotic life' as many people call it. With the growing opportunities and increasing acceptance of the concept of a 'home office', many people have been able to achieve their dream by breaking the monotony and leading a life which is 'freer' and 'less stressful'. There is no doubt that working from home gives you the greatest liberty of managing your time and schedule leisurely and productively, it also saves you the maddening commuting time! Speaking of productivity, it cannot be denied that a designated work space brings about a certain sense of seriousness and discipline which is required for work. It has been observed that work space affects your productivity. So, in context of cheerful décor, to say that 'a happy place means happy employees' wouldn't be untrue as 'happy employees' is also directly proportional to increased work productivity! Thus, it would also be safe to say- now that you have chosen to work from home, you might as well make your work space livlier and refurbish it your own way.
Here's good news that you don't need to spend exorbitant amounts of your hard earned money to get that dreamy home office. There are various cost effective options which are available in the markets. For instance,one budget friendly option is to use laminate sheets or decorative laminates  as you call them, they are durable and there is a wide variety of options to explore. Laminates keep your pockets heavy and your bills light at the same time. To begin, it is important to do your homework well and thanks to the internet you can begin researching while enjoying the comforts of your home. Simply look up on search engine for companies which offer decorative laminates at competitive prices. Also, prep yourself beforehand with a basic idea or a vivid picture about the desired look and feel of your home office. For instance, would you rather go for minimalist instead of lavish, a regular or a creatively inspired work space, what kind of colors you want to play with, whether you want a particular theme or not, what all elements you want to include,etc etc. Still confused about where to begin? Well don't be perplexed, we've compiled a brief list of budget friendly décor ideas for your home office.
Wonders Of Vintage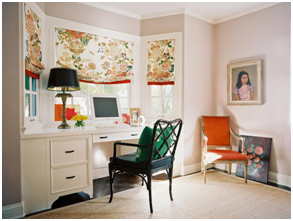 Image Source http://hgtvhome.sndimg.com/content/dam/images/hgtv/fullset/2014/12/10/1/CI-Hillary-Thomas_home-office-with-bay-window.jpg.rend.hgtvcom.966.725.suffix/1418269337269.jpeg
You can keep it simple with floral vintage. Opt for a wooden, laminated work desk and maintain a pastel theme OR give it a twist by adding a dash of color with a solid colored rug. Picking a chair with vintage print fabric for seat covers is a smart choice. You would agree that flowers always add beauty and freshness wherever they stand, so place a vase of fresh blooms on the desk for added cheerfulness. Vintage floral curtains/blinds further enhance the beauty of this small and compact work space.
A Dash Of Colour Splash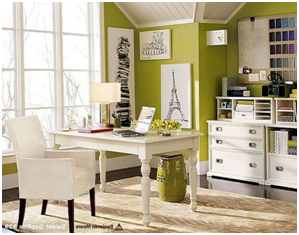 Image Source http://www.bellelap.com/wp-content/uploads/2017/12/office-furnishing-ideas-harry-potter-bedroom-new-office-design-home-office-guest-room-ideas-bedroom-and-office-combo.jpg
You can accessorize the room by adding colors- use wall art, keep chairs in different colors, place some cheerful flowers in a striking vase OR you could choose to splash the walls in vivid hues! Pick a single color or choose the entire color wheel, whatever inspires your creativity and enhances your work productivity, you are your own boss and  it's your home office after all, you may do as you please! However, we have an interesting tip to share with you. Some ways in which you can incorporate different colors to make the office look more cheerful is by keeping a quirky inspiration board or file cabinets in bold colors. Check it out-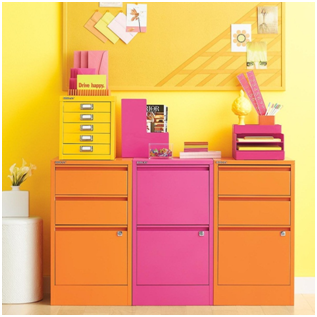 Image Source http://www.richardleebyers.com/wp-content/uploads/2017/08/Bisley-File-Cabinet-Colored.jpg
…And voila! You can try laminate sheets for such cabinets as a budget friendly option.
A Regal Touch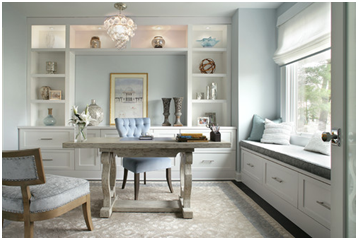 Image Source http://caliberhomes.ca/blog/wp-content/uploads/2017/10/contemporary-home-office.jpg
Sprinkles of classic regal on a tight budget 'is' possible, if that's what you are wondering about!  Here's how, keep a neutral and pastel color theme, revamp your old chairs using quilted seat cushions, place a simple resurfaced work table and revamp the old storage cabinets using decorative laminates and BOOM, you get a similar look for your home office! A small chandelier with warm lights clubbed with sufficient room for natural light adds to the spaciousness of this room. You must have observed that pastels work wonders here- blue with white/grey/ brown, as they enhance the visual appeal of this home office by adding a touch of understated elegance.
Rustic With A Modern Twist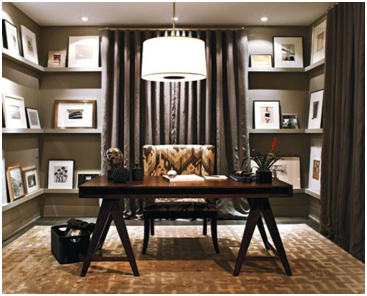 Image Source http://hld-office.com/wp-content/uploads/2015/11/home-office-decorating-ideas.jpg
A simple yet stylish room with warm and earthy browns in elegant upholstery, wall panels with a ceiling lamp and a stunning work table which steals the show- what more could you ask for!  For a table that speaks of rustic charm and yet fits in the limited budget, you can opt for veneer finish in laminate sheets which are easily available in the markets.
Modern Minimalist In Cool Whites Or Warm Beige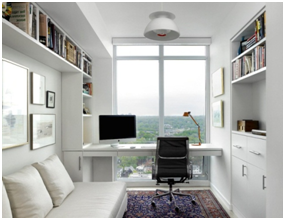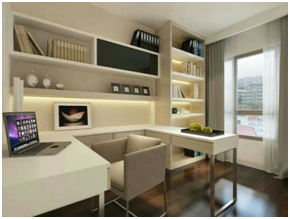 Image Source http://memorabledecor.com/wp-content/uploads/2017/04/modern-desk-organizer-in-home-office-with-custom-cabintry-abstract-window-film.jpg
http://www.nanobuffet.com/size/1280×960/server22-cdn/2016/08/23/small-study-room-small-study-table-0534f415c9c78215.jpg
Modern minimalist décor is especially ideal for those who struggle with space constraints. In the first option, the compact work area looks chic and spacious with single tone walls. You may alternate it with resurfaced wall panels for a chic look. We are jolly impressed with the way this compact office has been designed with smart storage cabinets and a clean finished work desk while maintaining the single color theme. The woven carpet in blue and red adds color without interfering with the charm of classic white.
With the second option you'd be floored with the neat finished minimalist office décor in elegant beige with the warmth of brown. Natural and warm lights make this office look roomy. With the type and number of options available in minimalist décor and laminates, you'd be definitely spoilt with choices.
Creatively Inspired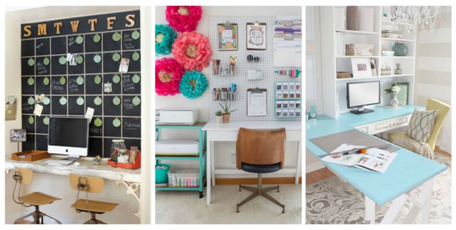 Image Source http://clv.h-cdn.co/assets/16/21/980×490/landscape-1464296530-picmonkey-collage.jpg
They say 'creativity knows no bounds' and you understand it perfectly. They also say that a room is a reflection of your personality and if this décor speaks to you, Hallelujah- the blessing of creative bug comes swooping in to your rescue! To set up a home office for you creative folks is like running wild and free in a playground. Laminate sheets, colors, designs, patterns, DIY home projects – well, you guys literally know your game and we leave the rest to you.
So tell us, would you still say that office is a dull and a boring place? We bet that you wouldn't, it's another perk of having a home office that you get to quirk it up your own way! And who knows, with so many cost effective choices of décors, you might as well be tempted to extend 'revamp projects' to other rooms of your house too!