Bed Designs and Laminates
You've come to the right place, this makes for an interesting read if you are looking for a pocket friendly makeover for your bedroom. We bring you some interesting bed design ideas using laminates for surfacing which wouldn't even burn a hole in your pocket, yet give that alluring look to the bedroom.
Modern Minimalist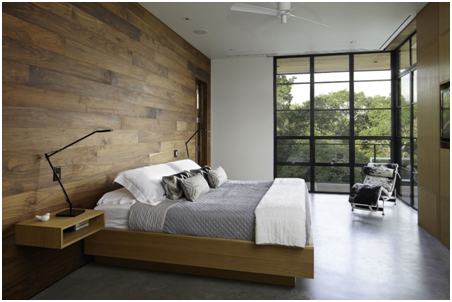 Image Source: http://idolza.com/a/f/w/wall-mounted-cabinet-minimalist-interior-design-modern-dark-brown-low-wood-table-chocolate-rectangle_wood-wall-design_interiot-design-modern-ideas-southern-house-plans-interior-c.jpg
Few important characteristics of modern minimalistic interior design is clean and basic detailing with focus on simplistic forms and functionality. With clean and minimalistic wall finish and cladding, the emphasis is laid on maintaining spaces which are commodious and light-filled.
Use of laminates for a budget friendly makeover is a viable option here. You may want to check out the Global Series and Classic Series by Formica India for a variety of options in laminates to choose from, to get this neat and stunning look for your furniture.
Modern Four Poster Bed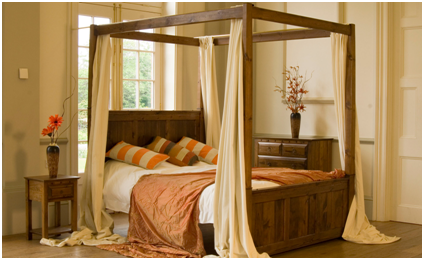 Image Source: http://bblocksonline.com/wp-content/uploads/2017/05/interesting-modern-four-poster-bed-interior-design-ideas-white-wall-white-varnished-wooden-door-brown-laminated-wooden-table-with-drawer-glass-window-with-white-varnished-wooden-frame-brown-laminated.jpg
The frame of a four-poster bed has four vertical columns which support a tester or upper panel (beams). The tester or panel often has rails which allows the curtains to be pulled around the bed. The recorded origin of these beds dates back to around 14th or 15th century. Historically these beds were made from oak, however the contemporary four poster beds have found many variants which include the laminated wooden frames. Four poster beds essentially exude an old world luxurious charm.
French Provincial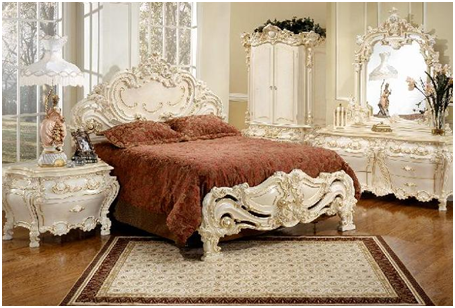 Image Source: https://s-media-cache-ak0.pinimg.com/originals/91/01/31/91013132026627588d5504cf0e4b9851.jpg
Originating in French provincial centers such as Orleans and Blois in the Loire Valley area and around Lyon or Liège region, followed some distance the design innovations that were initiated in the luxury trades of Paris, often with a time lag amounting to decades. (Wikipedia) French Provincial furniture typically features cabriole legs and basic scalloped carving. Give your bedroom this lavish makeover.
If this is not your kind of bed but the look and feel which you seek is rich and luxurious with a basic bed, you may perhaps want to try a simple and minimalistic resurfaced bed. We suggest that you check out Global Series Range or Slender Range by Formica India.
Platform Bed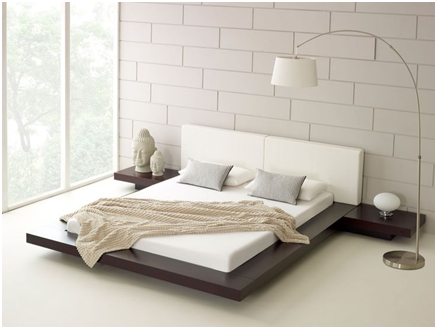 Image Source: https://i.pinimg.com/736x/7f/6e/7c/7f6e7c55cec49284c76141f37dbf363e–modern-bedrooms-modern-beds.jpg
A simple definition of a platform bed can be 'a bed with a mattress placed on an elevated wooden board structure often supported by legs, it is often accompanied by wooden sideboards which may or may not contain drawers for storage'.
For a neat and simple look, this bed design is quite popular amongst those who prefer minimalistic interior designs for their homes. A single colored and structured wall finish along with minimalist furniture adds more to the visual appeal of the room besides providing more open spaces.
For a pocket friendly makeover of your bedroom, you may want to try some brilliant resurfacing options available with Formica India.
Ottoman bed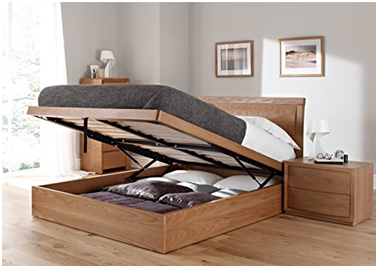 Image Source: https://images-na.ssl-images-amazon.com/images/I/71UqZ8jxjJL._SX524_.jpg
An Ottoman bed features a bed frame with hydraulic lifts for ample of storage underneath. It's a great space saving option for your bedroom. A contemporary Ottoman bed design also features upholstered bed frames.
If you like the design which we shared but the budget is your major concern, we suggest that you try laminates for this clean and richer look for your bed.
Sleigh Bed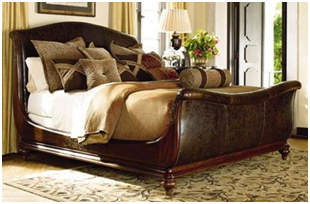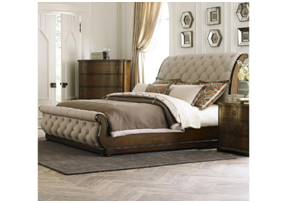 Image Source: http://www.suntzuforwomen.com/wp-content/uploads/2016/03/Thomasville-Sleigh-Beds-King-Size.jpg
https://imageresizer.furnituredealer.net/img/remote/images.furnituredealer.net/img/products%2Fliberty_furniture%2Fcolor%2Fcotswold%20545_545-br-qsl-b0.jpg?width=1024&height=768&trim.threshold=50&trim.percentpadding=10
Baring inspiration from ancient Roman and Greek empires, sleigh bed design is essentially Neo-classical and French styled which gained popularity in the first half of 19th century. Originally made of heavy wood, a typical sleigh bed features a rounded and scrolled head and footboard. However, there are many variations available in the market these days such as iron, steel, aluminum. A modern sleigh bed design also features upholstered head and footboards.
Contemporary sleigh beds are made from a variety of materials including wood, iron, steel and aluminum, and often possess less exaggerated curves of the foot and headboards. You can finish off this look with a glossy or a matte resurfacing.
Bunk Bed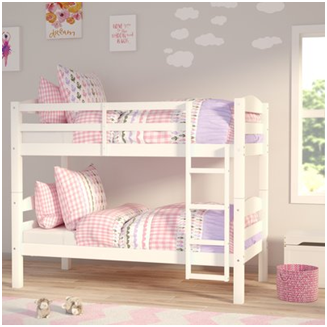 Image Source: https://secure.img1-ag.wfcdn.com/lf/49/hash/37701/41294317/1/abby-twin-over-twin-bunk-bed.jpg
A bunk bed is a stack of two or more beds. Metal poles or wooden beams connect the bottom bed to the top bed. An attached ladder is used to get up to the top bunk. (Wikipedia)
Bunk beds usually have metal or wooden framed structures and they're quite a popular choice for kids' room. For a distinct look for your kids' bed, you may want to check out exclusive Jeans finish laminates available with Formica India.
Murphy Bed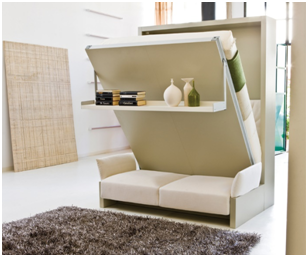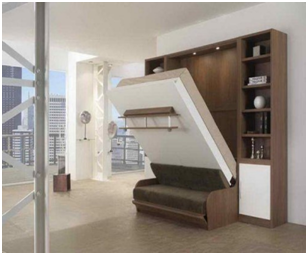 Image Source: https://cdn.makespace.com/blog/wp-content/uploads/2016/01/16164456/resource-furniture-Nuovoliola-murphy-bed.jpg
http://www.designyourhome.us/wp-content/uploads/2017/08/hide-away-beds-view-in-gallery-hideaway-bunk-beds-related-in-hide-away-beds-ikea.jpg
Murphy bed is a type of bed which is hinged at one end to store back vertically against the cabinet or a wall or inside a closet. Also called as a wall bed or a fold-down bed, murphy beds are much popular as bed options where there are space constraints such as small homes with limited floor space, mobile homes, college dormitories. (Wikipedia)
The bed units also include various options such as lighting, storage cabinets, shelves and there are models which are also available with sofas.
There are various smart options as laminates to give the lower surface of the bed for a visually striking look. Besides being durable, designer laminates can give your room a dapper look.
Now that you're spoilt with budget friendly choices in bed designs, we say happy bed hunting to you all!