DIY with Designer Laminates
Continuing with last month's flavor of turning something old into something new, we bring you a new list of creative ideas to give a fresh twist to old furniture using designer laminates.
With New Year just around the corner, you may have a pretty long list of resolutions- both fresh and a renewal of the ones you couldn't keep this year. So, how about making some creatively inspired new changes to your home as well? Here, we've listed some creative ideas to give a neat modern look to old and stale furniture.
Chest of Drawers
Are you tired of the keeping that same old chest of drawers tucked in a quiet corner? Here's what you can do with it to make that corner look cheerful. Either paint it in vibrant hues or resurface it using laminates. For a more refined look of the room, keep a vase of fresh flowers and aromatic decorative candles. Yet another way to give it a distinguished look is to turn it into a memory-corner by placing framed pictures of your family and friends.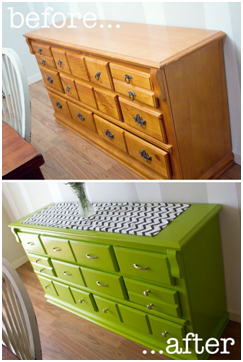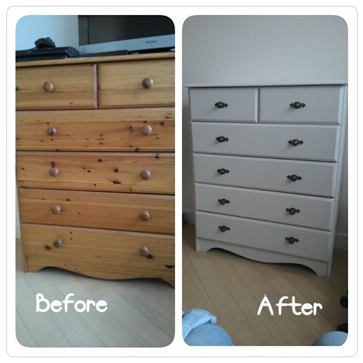 Image Source
https://i.pinimg.com/736x/70/8d/cf/708dcf6a63fb242a4c57339c9f1bcf6f–bedroom-furniture-refurbished-furniture.jpg
https://i.pinimg.com/736x/28/d2/60/28d2607477d930fd3d863313790a2d67–painting-pine-furniture-slogan-ideas.jpg
Surfacing the Study Table
Beautify your study room by refurbishing your old study table for an edgy and modernistic look. You may want to stick with the basics of black for a no-nonsense look. For the creative buds out there, well you have a plethora of options to experiment with which reflects the eccentricity at its best. You may want to check out all the options available out there in laminates, paint it in pretty florals or draw geometric patterns. Let it flow because we know that creativity knows no bounds!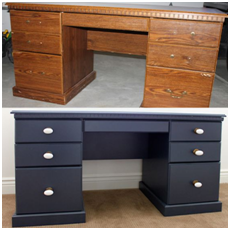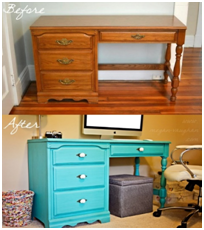 Image Source: https://s-media-cache-ak0.pinimg.com/originals/fe/eb/78/feeb78f57f4ef40b4a7cf881502c2c01.jpg
https://i.pinimg.com/736x/d3/06/16/d306165376d8c4a086ca6251a9e09e83–sewing-station-desk-redo.jpg
Dressers
Don't leave the dresser alone, how about dressing it up with a smart make up? There are many ways in which you can restyle your dresser, one such way is to use a different shaped mirror or simply resurface it with a glossy or matte finished decorative laminate. Hang a string of stunning fairy lights for that dreamy look.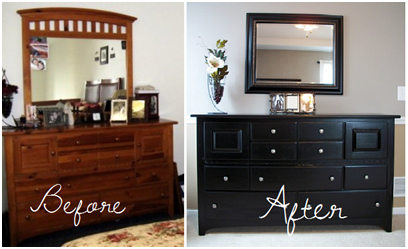 Image Source: http://flatblack.co/wp-content/uploads/2017/06/refinish-bedroom-furniture-modest-on-bedroom-throughout-refinishing-black-5.jpg
Side Stand
Give that old and bland side stand a dash of colour, experiment a little with Ombré. Ombré is a French word for colours which graduate in tones from light to dark. You may try pastel shades for a warmer touch or you may play with many shades of grey, do as you please!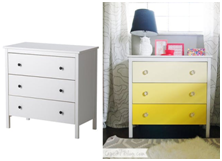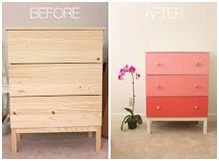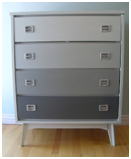 Image Source: https://atmedia.imgix.net/b0a25929a6d58814394150df016a1ee553a1ec4e?auto=format&q=45&w=640.0&h=430.0&fit=max&cs=strip
https://s-media-cache-ak0.pinimg.com/originals/12/0e/4a/120e4aa7faaf8b34698f762d848baab3.jpg
https://coloramaboligdromme.files.wordpress.com/2013/02/kommode-tone-i-tone-indretning-interior-bolig-design-maling-diy.jpg
Bookstand
For all you booklovers out there, restyling your prized bookstand is going to make you feel like you're gleefully lost in wonderland! There are ideas aplenty to dabble with, you can give your prized books a 'new home' by adding character to a simple and boring bookstand. You can play with contrasting colours and patterns for a fresh elegant look.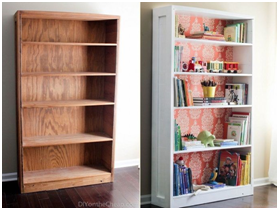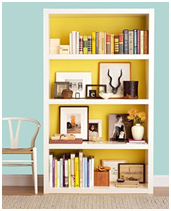 Image Source: http://cache.lovethispic.com/uploaded_images/233279-Bookshelf-Makeover.jpg
http://www.cape27blog.com/wp-content/uploads/2011/04/10445640_jt5ylRvX_c.jpg
Before the thought of 'revamping' drives you into a frenzy of budget woes, hold your horses and do not be discouraged, we said creative, not expensive! You can try out these simple DIY ideas using laminates or paints. For the less informed folks, neither of the suggested options are going to burn a hole in your pocket. Laminates are budget friendly and they can give your home a completely new look, you see what we mean!
As the year end is approaching, what better time could it be to breathe a new life into old furniture by trying out simple yet smart tricks to get you those stunning visual treats. Begin now, make a resolution for your home too, to make it 'new year' ready.